Welcome to the page of Hawking's Class.
Stephen William Hawking was born 8th January 1942 and died 14th March 2018. He was an English theoretical physicist, cosmologist, and author. His book A Brief History of Time was on the best seller list for 237 weeks. That is a record! He had a slow form of motor neurone disease which meant that he was confined to a wheelchair and used a computer to speak. He could control his computer using a single muscle in his cheek.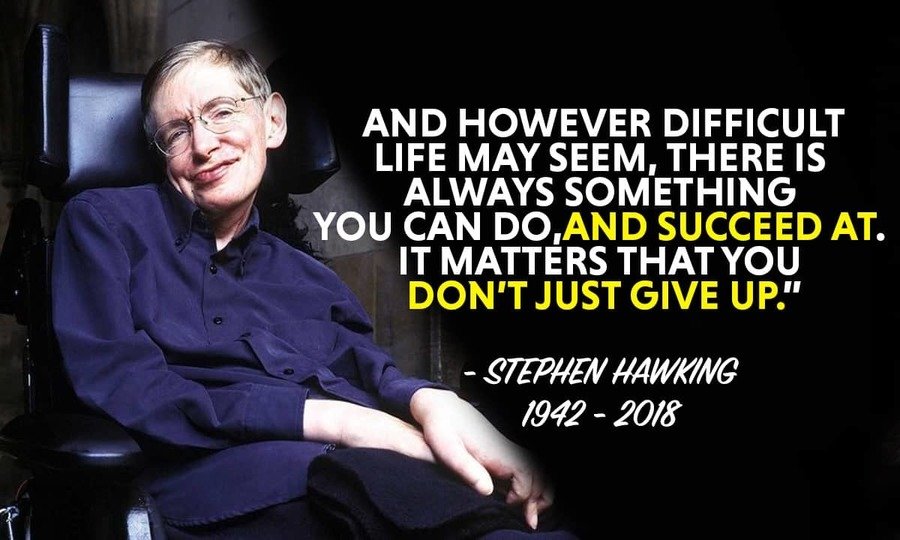 YEAR 5 BIKEABILITY - MAKE SURE YOUR FORMS ARE SIGNED AND RETURNED!
Summer 2
We are now on the final stretch, our final term!
Please see our Curriculum information sheet to see what is happening in class this term.
We will be having a big push on Times Tables this term, so please try and practise at home as much as possible.
https:www.topmarks.co.uk/maths-games/hit-the-button'
Homework will be sent out in the blue Homework folders every Friday. Children have a whole week to omplete their homework, ensuring it is handed in the following Friday.
There will also be My Maths and Reading Plus set as usual.
Spellings and Times Tables will be tested in class each Friday.
Year 4 Spellings
| Name | |
| --- | --- |
| 13. sc sounding s.doc | Download |
| 14. ei, eigh, ey sounding a.doc | Download |
| 15. Possessive apostrophe - plurals.doc | Download |
| 16. Possessive apostrophe - plurals.doc | Download |
| 17. Irregular tenses eep to ept.doc | Download |
| 18. Irregular tenses end to ent.doc | Download |
| 19. Homophones long o.doc | Download |
| 20. Homophones long i.doc | Download |
Showing 1-8 of 8
Key Dates
PE is on a Wednesday - Remember your kit!