Music Lessons
Please click the blue link below to read the music curriculum map.
Music is a foundation subject in the National Curriculum. The National Curriculum aims for music ensure that all pupils:
perform, listen to, review and evaluate a range of music
learn to sing and use their voices, to create and compose music and have the opportunity to learn a musical instrument
understand and explore how music is created
In Banks Road the children use the Charanga Music scheme during their lessons. The school receives specialist music tuition through the Wider Opportunities Programme which is run by Resonate, the Liverpool Music Service. We provide violin lessons for Year 4 and Year 5 pupils, guitar lessons for Year 3, recorder lessons for Year 2 and Choir for KS 1 and KS2.
Opportunities to develop singing as a performance art are available through whole school singing assemblies and in the school choir.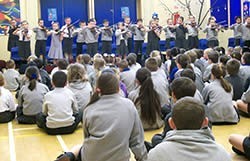 Violin group entertaining the school