Safeguarding at our school
At Banks Road Primary School, we are committed to safeguarding all children and promoting their welfare. We are a Safe School.
We expect all staff, governors, parents and carers, volunteers and visitors to share our commitment in order to maintain a vigilant and safe environment.
We believe that all children have the right to learn in a caring, supportive and safe environment which includes the right to protection from any and all types of abuse.
As a school, we recognise that keeping our children safe is a shared responsibility.
Our staff are highly trained and are fully aware of how the keep children safe from harm.
All staff follow and implement the statutory guidance, 'Keeping Children Safe in Education'.
Staff remain vigilant at all times for any signs or indicators of any child in distress, or who may be at risk of harm.
All staff are confident in their ability to follow the school's safeguarding procedures to keep all children safe at all times.
We adopt and embed a child centred and coordinated approach to keeping children safe.
As a school, we have a range of systematic child protection procedures in place to safeguard our children, all of which are underpinned by our school Child Protection policy.
The school ensures children learn in a safe, caring and enriching environment. Children are taught how to keep themselves safe, to develop positive and healthy relationships, how to avoid situations where they might be at risk including by being exploited.
The school also has a statutory responsibility to share any concerns it might have about a child in need of protection with other agencies and in particular police, health and children's services. Schools are not able to investigate child protection concerns but have a legal duty to refer them. In most instances the school will be able to inform the parents/carers of its need to make a referral. However, sometimes the school can in certain circumstances share information without the consent of the family and may be advised by children's services or police that the parent/carer cannot be informed whilst they investigate the matter or make enquires. We understand the anxiety parents/carers understandably feel when they are not told about any concerns from the outset. The school follows legislation that aims to act in the interests of the child.
The school will always seek to work in partnership with parents and other agencies to ensure
the best possible outcomes for the child and family.
If you have any concerns about a child's welfare, safety or well-being, or have a concern about the behaviour of any adult within the school towards a child, please do not hesitate to contact the Designated Safeguarding Lead or any member of the school's Safeguarding Team. 'If you think it, report it.'
Designated Safeguarding Lead

Mr J Wilson

Deputy Headteacher

Deputy Designated Safeguarding Lead

Mr J Savage

Assistant Headteacher

Additional Safeguarding Officers

Mrs L Gibson

Mr S Evans

Miss L Smyth

Headteacher

Learning Mentor

EYFS Lead

Safeguarding Governor

Mrs C Hill

Chair of Governors

Links:
Sometimes, we may need to share information and work in partnership with other agencies when there are concerns about a child's welfare and safety.
We will always ensure that we share our concerns with the child's parents/ carers first unless we have reason to believe that such a decision would be harmful to the child's welfare.
If a member of staff is concerned about a child's welfare, they will record their concern, including any observations or conversations had/ heard, and report to the Designated Safeguarding Lead or another member of the Safeguarding Team without delay.
If a member of staff has any concerns which relate to the actions or behaviour of another member of staff (which could suggest that s/he is unsuitable to work with children), then this will be reported to the Designated Safeguarding Lead or another member of the Safeguarding Team in confidence who will refer the matter to the Headteacher (or the Chair of Governors if the concern relates to the Headteacher) who will then follow the school Child Protection policy.
Online Safety
We live in a digital age; the internet and new technologies are changing the way we work, the way we live and the way in which we educate children and young people. They offer huge benefits both inside and outside of school but we must also be aware of some of the potential risks associated with their use. We therefore work hard to ensure that we work to minimise the risk to both our students and staff.
Online Safety is a safeguarding issue, not a computing issue.
Online Safety is about ensuring safe and responsible use by the entire school community; all children and all staff.

Online Safety is about protecting children and young people whilst they are in our care and educating them for when they are not.

Online Safety should be an integral part of

all

ICT use.
"Nothing is more important than promoting the welfare of children and protecting them from harm."
DfE, May 2016 (From the government's response to Alan Wood's, CBE – Review of the role and functions of Local Safeguarding Children Boards)
"The use of technology has become a significant component of many safeguarding issues. Child sexual exploitation; radicalisation, sexual predation – technology often provides the platform that facilitates harm. An effective approach to online safety empowers a school to protect and educate the whole school community in their use of technology and establishes mechanisms to identify, intervene and escalate any incident where appropriate."
DfE, May 2016 (From Annexe C: Online Safety - Keeping Children Safe in Education)
Online Safety tools, resources and links:
Prevent Strategy
The Prevent Duty is a government strategy designed to prevent people from being drawn into terrorism.
The Department for Education have published a departmental advice document for all schools and childcare providers to follow, which can be found here.
Click here for the Educate Against Hate website, which aims to give school staff, parents and carers practical advice and information on protecting children from extremism and radicalisation.
Anti Bullying
Keeping children safe from bullying is an integral part of our PSHE curriculum. Through our values-based curriculum, children learn how to behave towards each other through the promotion of British Values of tolerance and mutual respect.
Bullying is when a person or group of people physically, verbally and/or emotionally mistreat and/or hurt others, including through any form of social media, which is deliberately repeated over time.
At Banks Road Primary School, we strive to prevent and combat any form of bullying through various strategies and approaches. Please see below for our Anti Bullying policy and for some examples of our strategies and approaches in action:
Anti-Bullying Week.

Anti-Bullying Ambassadors.

'Bully Busters' workshops.

Year 6 Prefects.

'Buddy Benches'.

Trained 'Young Leaders' for Reception and Key Stage 1 children at playtimes.

School Council.

Clear and consistent behaviour policy which the children recognise and understand.

School Code of Conduct.

A Quiet Place intervention including HeartMath.
What should you do if you think your child (or a child you know) is being bullied?
As a school, we have a zero tolerance policy on bullying and any cases of bullying, including cyber bullying, will be dealt with quickly and effectively.
Without delay, speak with your/ the child's class teacher and/or a member of the school's Senior Leadership Team to share your concerns. Names and roles of the school's Senior Leadership Team can be found below:
Mrs L Gibson - Headteacher

Mr J Wilson - Deputy Headteacher and Designated Safeguarding Lead

Mr J Savage - Assistant Headteacher and Deputy

Designated Safeguarding Lead
If you do not wish to speak with a member of staff face-to-face, you can telephone school on 0151 427 4360.
External advice, information and tools for parents/ carers can be sought from the Anti Bullying Alliance website: https://www.anti-bullyingalliance.org.uk/tools-information/advice-parents/interactive-anti-bullying-tool-parents
All children are taught to report anything that they are worried about to a member of staff that they trust and this will then be investigated without delay.
Young Carers
At Banks Road, we believe that all children have the right to an education regardless of what is happening at home.
When a child looks after someone in their family within role as a young carer, we acknowledge that the young person may need some extra support to help them get the most out of school.
Our Young Carers policy sets out how we will help any pupil who looks after someone at home.
Colleagues from the British Transport Police came into school to talk to our children about staying safe on and by the railway.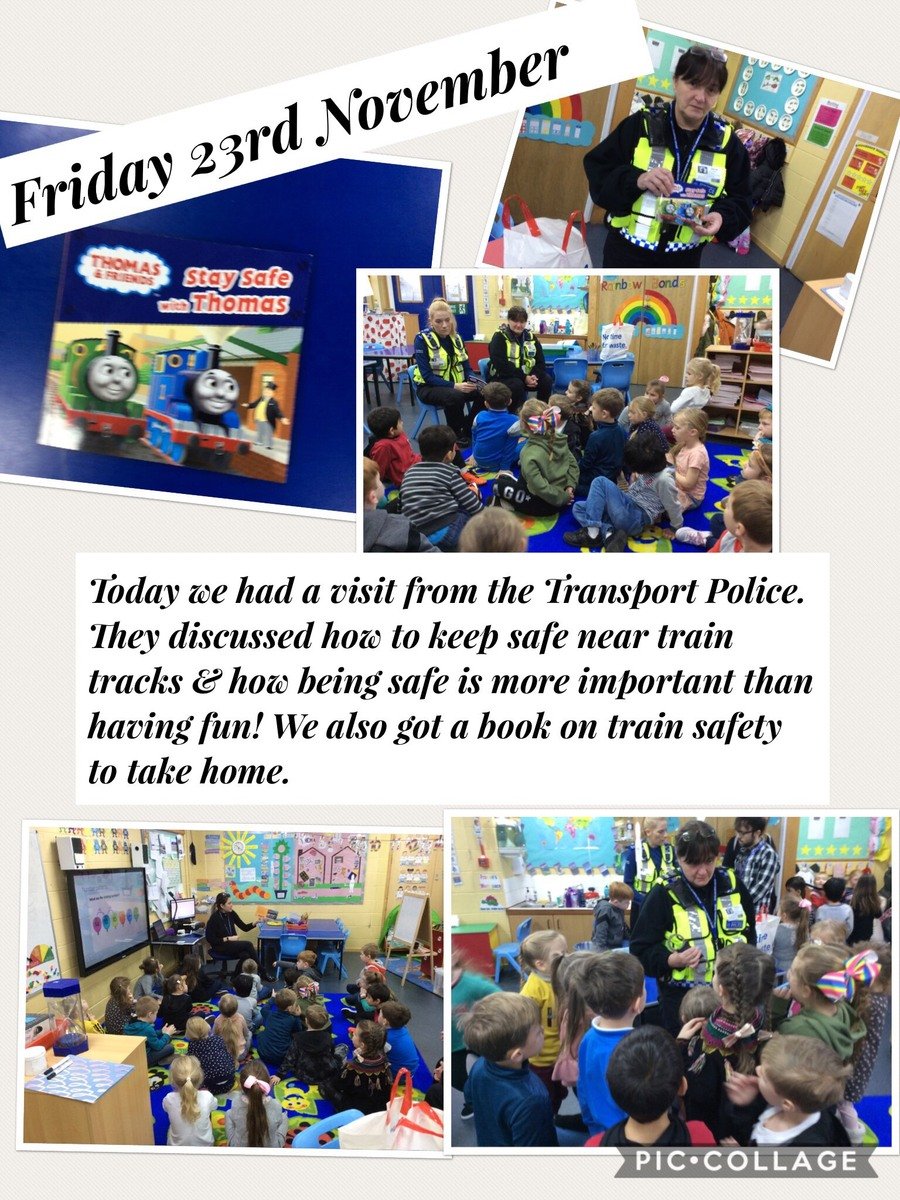 On 4th October 2018, colleagues from the NSPCC came in to school to talk to all of our children about 'Speaking Out and Staying Safe'.
KS1 and KS2 children enjoyed two excellent assemblies and our Year 5 and 6 children engaged in class workshops.
A big thank you to the NSPCC!
Author, Jude Lennon, visited our school on 2nd October 2018 to deliver an excellent 'Slow Down for Bobby' assembly through which lots of key messages and reminders were shared!